On Aug 13th,0500 hrs, 6 of us started a journey that we would remember for years to come. After about 2 months of planning, we decided on visiting Thekadi for the Independence day weekend and after lots ofconfusion, we fixed on doing a road trip. And so, with a Qualis to carry us, a driver to drive us through and loads of enthusiasm, we started our trip.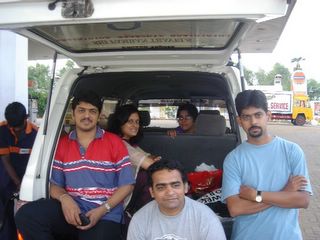 It's quite natural for a bunch of people inside a moving vehicle to be so vociferous and that's exactly how we were. Jarring music, our loud singing that was not in harmony with the music, jokes,pulling legs, and boisterous laughter entertained us throughout the backbreaking 12 hr journey. We even watched a movie.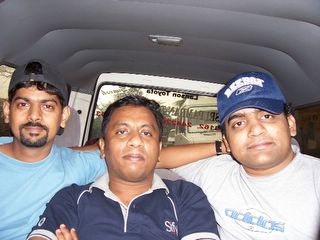 A tinge of Malayalam and an array of coconut trees signaled the arrival of Kerala.
And finally at around 1830 hrs we reached our destination,HOTEL AMBADI, about 3 Kms before Thekadi.
After a quick shower, we went for a long stroll. The weather was just perfect. While we were discussing on whether to watch martial arts or kathakali dance, the slight drizzle and chilled breeze made it obvious that we should just extend the stroll. All of us agreed unanimously. Walked into a restaurant just to taste some Kerala soup.
Back in our Hotel, with the only other non-teetotaler down by the effect of "Coconut Milk mixed" Mushroom soup, I had to take the lead. Being tired already, we split quickly after dinner to catch up with some sleep. The day was eventful in it's own ways. The second day was the highlight about which I shall write tomorrow.