Trekking is something none of us have done before, and so we were all so excited. Walking through arduous paths, ambling uphill and downhill is all we had in mind. But what was in store for us was quite amazing. We had to sign a paper that stated that we were solely responsible for any mishap that may occur during the trek. Hmmm that just added to the excitement.
We reached the starting point of our trek after bamboo rafting across the Thekadi Lake.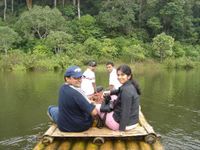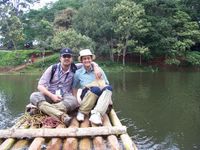 Only when we reached the other side of the shore we realized we have to pace through the thick forest into its deepest interiors. We were only warned of leeches and not of Lions and Tigers. And so we had the necessary protection in terms of a pair of jute socks.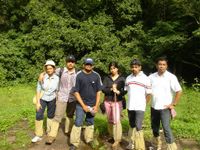 Flora, plants, vegetation, flowers, foliage, shrubbery, and undergrowth. That's all we got to see. We could hear the hornbill throughout and sighted elephant tracks, Malabar giant squirrel, and the Nilgiri Langoor. The tree that you see in the above picture (right) is 300 years old.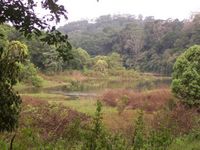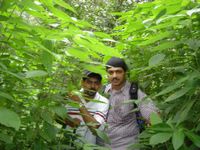 The fear of having to come across the Tigers or Lions slowly disappeared as the leeches started crawling onto our feet. The focus shifted from enjoying the greenery and we were just trying to get the leeches off us most of the time. Fear setting in, half of us wanted to return while the rest wanted to continue. We decided to continue after a brief respite.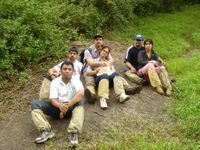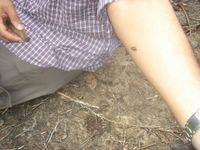 We came across lot of streams and a tree that took the shape of a king cobra. We were glad that we continued with the trek.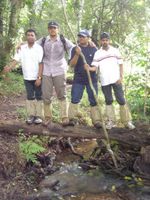 Finally, after about 3 hrs of walking through the jungle we returned. 3 of them had to lose a couple of ml of blood in them after leeches did their work. Despite all that, the trek had fun written all over it.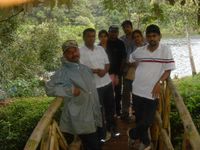 Trivia
Can you spot something unusual in the below picture ? If you can, put it in the comments