With three of them being bit by leeches, we thought we had invited new inhabitants into our rooms. However, the 3rd day morning had a different story to tell. We had an uninvited guest in my bag. And that's how the day started.
After breakfast, we started our return journey to Chennai. Being the adjusting types that I am, I volunteered to sit at the rear throughout the trip.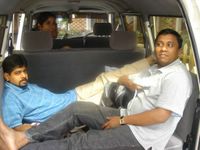 Our first destination while back home was Surli falls. However, halfway through we chanced upon this wonderful waterfalls. I was reminded of Vairamuthu's lines on the Niagara, " Your proverb has been proven wrong. Behold! It is smoking without fire". We did land up at Surli, however decided to return without taking a shower considering crowd and hygiene factors.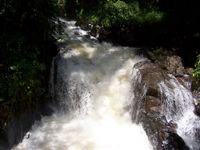 En route we came across a grape yard. Stopped by to relish the grapes directly. Some interesting conversations on wine, compost, and Theni district emerged during out short stay at the farm.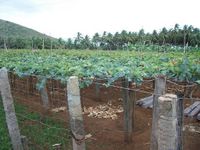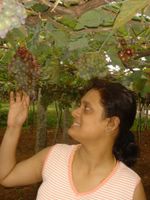 Rest of the trip revealed new talent in just about everyone. Viji entertained us with her delivery of dialogues from Thillumullu, Madhu could churn out unknown songs from yesteryears that started with "LA", Susanth was focused more on keeping the driver alive and kicking, Srivathsan was all the time wanting to change the rules of the game for want of songs, Kannan and I remained the undefeated emperors of Anthakshri.
And finally at about midnight we entered the city and it was almost 01:30 hrs by the time everyone was dropped home. And there ends the story of six friends who went on an Independence day trip to Thekadi.