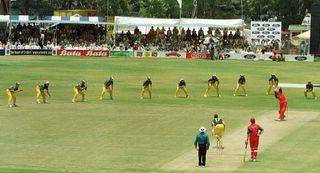 Never knew a cricket match between us (MIITS – A team I am not part of) and Enterprise Solutions would force me into writing a post. Hmmmmm.
They were definitely the underdogs.
We were the favorites.
They started playing in the nets a week back.
We were prepared to play with no preparation.
They were saying, "It's ok to lose".
We were like, "Ha ha ha"
Defeat was written all over their body language.
We were all set to taste victory.
They were trouncing our bowlers.
We were happy to chase a big score.
And today,
They hit a massive 175 in 20 overs.
We were all out for 167.
We had good bowlers and batsmen.
They had the spirit, enthusiasm and fire in them.
My Contribution:
7 runs and a wicket.
My learnings:
Never underestimate your enemy.
Never be complacent.
Never brim with over confidence.
There is nothing that can inspire me more than my own words. I wrote this poem (Never say die) more than a year back, and I thought it fits today's situation to a tee.
The first carving is never the sculpture in display.
The first draft is never the Novel published.
The first sketch is never the Painting that sold.
The first scribble is never the Poem in print.
The first brawl is never the battle won.
The first step is never the Everest conquered.
The first stride is never the Journey traveled.
The first effort is never the Mission accomplished.
The first attempt is never Triumph in hand.
Victory does not come at the very first go,
As someone said,
You have to fail your way to success.
P.S. Photo Courtesy :
www.phys.unsw.edu.au