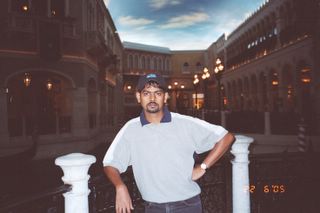 Buying a pack of cigarette
Buying a can of beer
Gambling in a casino
Visiting a night club
All the above have something in common. They are banned for anyone below 18 as per the federal law of US. I indulged in almost all of them.
In most cases, there were at least 2-3 guys with me. Surprisingly,
I was the only one who was requested to produce a photo id.
The first few times, I was ok with showing them my passport but it went to the point of getting on my nerves.
So, on one instance I refused to show my id and the lady said, " Son, I am sorry, you cannot enter unless you produce your id coz you don't look like above 18 at all". She was probably in her mid 30s and she calls me son. Phew !!! I happily showed her my id coz it seemed more like a compliment to me.
It's probably because of my teeny tiny frame. Nevertheless, if anyone of you needs free tips on everlasting youth, just leave a comment. I shall be more than happy to advise.
P.S. The photo was taken in Hotel Venetian, Las Vegas.
P.P.S. For those who are relating Somu to self flattery, hmmm like I care ;o)